Fuel Collection
(Mae'n ddrwg gennym ond nid yw'r cynnwys yma ar gael yn Gymraeg ar hyn o bryd.)
Here at our Depot, our unmanned filling station is open around the clock to account customers (please see Fuel Bunkering Section below), additionally customers are welcome to call in during normal opening hours (out of hours by appointment only) and collect fuel on a cash sale basis; we accept cash, cheque or card payments.
Heating Oil (Kerosene 28sec), Red Diesel (Gas Oil35sec) and Road Derv are all available through our Self Service Fuel dispenser; for added protection for today's complex machinery and appliances, all fuels are passed through 10 micron water and particulate filter, all dispensers are trading standards approved and very competitively priced. Don't worry if you haven't got your own containers, we also have new 20 litre containers available for purchase.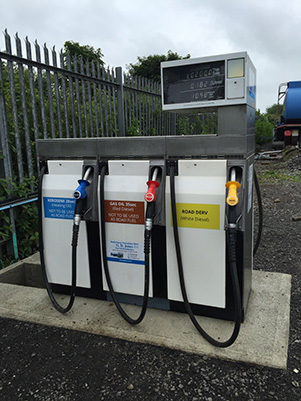 Customers may also collect any of our fuel additive range to complement their fuel.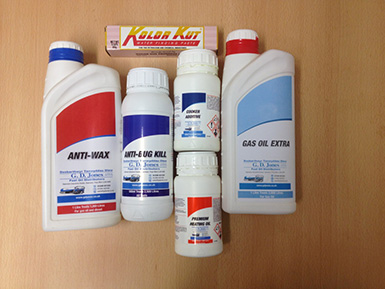 Alternately, customers in a bit of a rush can purchase conveniently pre-packed containers of fuel or Adblue.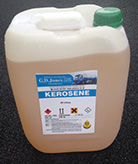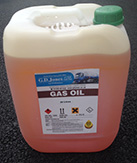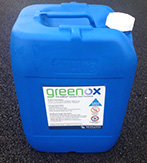 Bynceri Olew Tanwydd
Considering the high up-front purchase cost of fuel, bunded storage tanks, hoses and nozzles, worries about fuel theft, time consuming stock reconciliation, stock loss due to evaporation or shrinkage, running out of fuel when you most need it and the added worry of complying with the environmental rules and regulation's regarding the storage of fuel oil then it's no wonder that so many business's are looking at alternative's to storing their fuel requirements at their own premises.
We can take all the worry out of this situation for you by offering you our Fuel Bunkering Service.
At our depot on the Gaerwen Industrial Estate, just off Junction 7 of the A55, we can offer companies access to our automated fuelling facilities on a 24/7 365 days per year basis to collect ULS Derv, GasOil 35sec and Adblue on pump.
The site has an unmanned and fully computerised fuelling system which uses Radio Frequency Identification Devices (RFID) or 'Fuel Tags' to dispense fuel to approved local accounts and national credit customers as and when they need it. Our facilities are fully certified under the Weights and Measures Act so you will only pay for the fuel you use and not the fuel you did buy but have lost.
Full VAT Invoices are issued fortnightly and we'll collect payment within 14 days by Direct Debit so you won't even need to send a cheque which means you'll save again on bank and postage costs.
Fuel Bunkering FAQ's
General Questions
Q How does your fuel bunkering system work?
Once approved, we will issue you with a Radio Frequency Identification Device (RFID) or 'Fuel Tag' which will carry electronic data which is specific to your account and/or your vehicle. Each time you fuel up at our site the computerized fuel monitoring system will know who you are and will allow you or your vehicle to draw the fuel you want when you want it .
Q How does your fuelling system know who is collecting the fuel?
Just like a credit card, the Fuel Tag carries data which is specific to you or your company. When you present your tag to our fuel management device the data is captured in a contactless method and checked against the records held against that particular fuel tag. Any fuel drawn is then recorded against your fuel tag.
Q Do I need to sign for the fuel I collect or tell anyone how much fuel I have collected?
No, you do not need to see or speak to anyone at all whilst on site. All the required data about the fuelling and who is collecting the fuel is captured from the Fuel Tag and all the fuelling data such as product, volumes, date and time is recorded by the computerized fuel monitoring system. This leaves you free to fuel up and get back on the road.
Q What information will your Fuel Island Controller ask for when I collect fuel?
If you have opted to collect more than one of the three products available (ULS Derv, GasOil or Adblue) then the system will ask you to select which product you require before activating the pump. You can also opt to have the system ask you to specify your mileage, driver's initials or a Driver PIN Number.
Q What are the opening times of your depot?
You can fuel up at our site from 7.00am to 6.00pm Monday to Friday and 8.00am to 12.30pm on Saturdays.
Q What if I need fuel outside your depots opening hours?
Our fuel management system also controls the access into our site using the same fuel tags that are used to dispense fuel. Subject to our approval, we can set the parameters of your fuel tag to allow access to our site 24hours a day, 7 days a week, 365 days a year.
Q What if, for security reasons, I don't want my tags to be able to fuel up outside my own working hours?
We can set up specific time zones where your vehicles can only access our depot and fuel up within your own preferred time zones. Please contact us to discuss your requirements.
Q For security reasons, can I limit the amount of fuel that can be dispensed to no more than the size of my vehicles running tank?
Yes you can. Just contact us to discuss your requirements and we'll set the parameters of your fuel tag for you.
Q Can I have a receipt for each time my vehicle's fuel up my vehicle at your depot?
Yes you can. Our fuel management hardware can provide a printed receipt if requested by the driver after the fuel has been dispensed.
Q What information will be shown on the receipt?
The receipt will show the time, date, fuel tag number, type of fuel, quantity, and any of the other optional data such as initials and mileage.
Q I have an articulated HGV, is your depot large enough to accommodate my wagon?
Yes it is. Our site has no height, width or weight restrictions and there is no need to reverse whilst on site.
Q I have a diesel engine car for personal use, can I apply for a Fuel Bunkering Account?
Unfortunately, no. This service is only open to trade customers who monthly fuel use exceeds our Minimum Monthly Volume.
Product Questions
Q What products are available at your depot?
We currently supply the following products by pump: ULS Derv, GasOil 35sec and Adblue.
Q How many pumps are available at your depot?
We have two pumps at our depot in the following configuration;
Pump 1: ULS Derv [high speed pump] and Adblue for LGV's & PCV's
Pump 2: ULS Derv and GasOil for light commercial vehicles and tractors or JCB's
Having two pumps on site means less queueing time so that you can get back on the road sooner
Q Can the system deliver both ULS Derv and Adblue or ULS Derv and GasOIl simultaneously?
Yes it can.
Q I want to collect Red Diesel from your depot, why do you need to know my VAT Registration Number and what I intend to use the fuel for? HM Revenue and Customs class GasOil 35sec as a 'controlled oil' due to it's reduced rate of duty and we are therefore required by law to ask you these questions to comply with the RDCO Scheme. If you refuse to supply this information then we will reject your application. Please click on this link for further information regarding the RDCO Scheme.
Q Can I fill my vehicle with GasOil 35sec at your depot?
No. It would be a criminal offence to do so unless your vehicle is registered by the DVLA for 'off road use' such as a tractor or JCB.
Fuel Tag Questions
Q How many fuel tags can I apply for?
You can apply for as many fuel tags as you require. A £10 refundable deposit will be charged for each fuel tag.
Q What if I lose a Fuel Tag?
If you lose your fuel tag then we will invoice you for the replacement cost of that tag. Please see our Fuel Bunkering Credit Account Terms and Conditions for the current costs.
Q If I lose my Fuel Tag, will I still be responsible for the fuel that has been drawn on it?
Yes. You will be responsible all fuel drawn on that fuel tag until we have been notified and we have confirmed to you that the fuel tag has been 'locked out' from the system. Please see our Fuel Bunkering Credit Account Terms and Conditions for further details.
Q What if my fuel tag doesn't work anymore?
If your fuel tag doesn't work for whatever reason, then as long as you return it to us, we will replace it with a new one at no extra cost. We can then return it to our suppliers for investigation.
Credit Account Application Questions
Q Why do you make credit searches on your applicants?
Carrying out a credit search on new applications helps protect us by checking the identity of any prospective customer that is requesting any form of financial credit from us. Asking for this information makes it more difficult for criminals to use false names and addresses, or to steal the identities of innocent people or businesses in order to procure goods. Identity checking is an important way of fighting money laundering and other criminal activities.
Any credit application by an applicant with a CCJ, low credit rating or no credit history will be refused automatically. These Credit Reference Agencies will record details of the search whether or not your application is approved. As well as making a credit search, we will also make local enquiries with our existing customer base about you or your company.
Q I am the director of a new Limited Company with no credit history. Can I still apply?
Yes, you can apply for a Fuel Bunkering Account but only on a Pre-funded Account basis. Please call us to discuss your projected monthly spend.
Q Why do you ask for a credit or debit card number on the Credit Application Form?
Should your direct debit payment be refused by your bank for whatever reason, then as a guarantee, we will deduct any payment due from the credit or debit card you supply. If you chose to supply a Credit Card then a 2% surcharge will also be added to the amount due to cover processing charges which we will incur.
Q When and how often will I be invoiced?
Full VAT invoices listing each and every individual fuelling will be issued on the 14th and the last day of each calendar month.
Q What information will be shown on the invoice?
View a sample invoice.
Q How do I pay for the fuel I have collected?
Payment is taken from your bank account by Direct Debit 14 days after the invoice date.
Q Can I pay by cash or cheque at the end of the month?
No. Direct Debit is the most efficient method of payment we can accept. Due to the high bank charges we incur when processing cash and cheques it is not be economical for us to accept payment for fuel by either of these methods. Furthermore, from the 30th June 2011 we will no longer be accepting cheques as the 'Cheque Guarantee Card Scheme' will be closing.
Q How soon after applying can I have a fuel tag?
Normally, if your application is approved, tags will be issued within 5 working days. If you need them sooner then please contact us.
Q How do I apply?
Simply Log On or Register to use our website, click on the 'Get Application Form' link and complete in the Application Form and Direct Debit Mandate on your screen.
Print all the documents, keeping an additional copy for your own records, then send the original Application Form to us and we'll do the rest.

Cofrestru

Creu enw defnyddiwr a chyfrinair i gael mynediad i'r safle

Creu Eich Cyfrif

Rhowch eich manylion bilio a chyflenwi neu rif eich cyfrif a côd post yn unig os ydych yn gwsmer gyda ni'n barod.

Cael Pris

Derbyn pris ar-lein yn syth yn seiliedig ar eich cyfeiriad cyflenwi.

Dewisiwch Ffurf Taliad

Talwch gyda cherdyn credyd neu ddebyd gan ddefnyddio secure server neu dalwch gan ddefnyddio cytundeb debyd uniongyrchol cyfredol neu ar gyfrif i gwsmeriaid presennol.